14th May 2020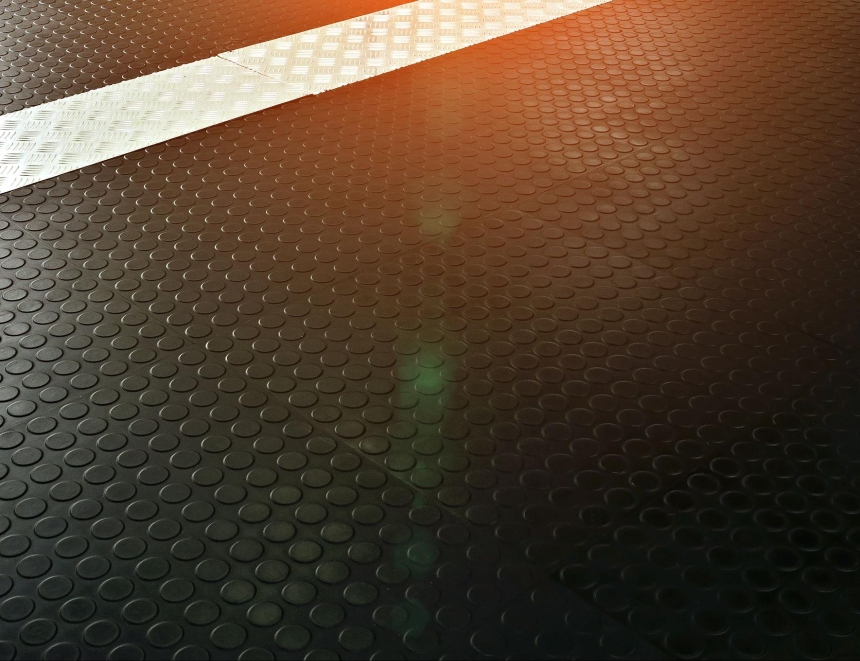 Slip and fall hazards can be significant in various commercial environments, from kitchens and factories to safety walkways and general-purpose areas. One of the best ways to reduce this risk is using slip-resistant rubber mats. Designed to provide a high level of traction and grip, even in wet or oily conditions, they make an ideal product for any area where slips and falls could be a concern. If you're a business owner looking to improve workplace safety, this article will explore the benefits of slip-resistant rubber mats, how to choose the right one, and how best to clean and maintain them.
The benefits of using slip-resistant rubber mats
Hard floors can be a lethal hazard when they're wet, greasy, or slippery in any way, leading to potentially serious injuries in a mixture of workplaces. Using easy-to-install, specialist slip-resistant rubber mats provides various benefits to protect against these hazards and reduce risk. Here are just a few key benefits of anti-slip mats in a work environment:
Enhanced safety
Safety is paramount in every work environment, and the most obvious benefit of slip-resistant rubber mats is their ability to increase workplace safety. Slips and falls can be prevented with high traction and grip, even in wet or oily conditions, helping employees feel confident to move around safely and without fear of injury.
Increased durability
In addition to their safety benefits, slip-resistant rubber mats are incredibly durable. Made from tough, high-quality rubber materials, slip-resistant rubber mats are designed to withstand heavy foot traffic, exposure to moisture and chemicals, and any other form of wear and tear. This durability means they can provide long-term, reliable slip resistance, even in the most demanding environments.
Complete versatility
Another advantage of slip-resistant rubber mats is their versatility. Available in a wide range of sizes, virtually any work environment can use these mats. From indoor showrooms and industrial workspaces to outdoor inclined walkways and ship or boat decks, slip-resistant rubber mats come in various product types to meet the needs of any area.
Reduced fatigue
Slip-resistant rubber matting can also have anti-fatigue properties. In kitchens, factories, or customer-facing spaces, staff may need to stand for long periods. Hard concrete or tiled floor surfaces can bring on or accelerate joint, muscle, or back pain and affect blood flow around the body. The mat's textured surface can help to shift weight and promote movement to reduce fatigue.
How to choose the right slip-resistant rubber mat
With plenty of options, knowing which slip-resistant rubber mat to use for your workplace can be hard. But there are a few key factors to keep in mind. Here are some things to consider to ensure you select the best type of slip-resistant rubber mat for your needs:
Consider the setting
One of the first things to consider when you choose a slip-resistant rubber mat is the setting in which it will be used. Different environments will require different types of mats to provide the highest safety and functionality.
For example, commercial kitchens usually require matting with high oil and grease resistance and excellent drainage qualities. Outdoor inclines, ramps, and walkways may need a high-performance mat that's weather-resistant, highly durable, and can withstand exposure to UV rays. While indoor, multi-purpose or public areas will benefit from thinner and more aesthetically pleasing matting.
Take some time to evaluate the specific setting where the mat will be used and choose matting designed to perform well in those conditions.
Consider the level of slip resistance needed
A crucial factor is understanding the required level of slip resistance. Mats are typically chosen based on their ability to provide traction and grip in certain circumstances and specific environments.
A mat in a high-traffic area with a lot of water spillage, like a restaurant kitchen, will need a more textured surface or a multi-directional pattern with good drainage and ramped edges to prevent trips. Whereas a dry, indoor environment like an entranceway, stairs, a shop floor, or a car showroom may need thinner matting with only a slightly raised texture or pattern finish. Choose a mat appropriate for the environment and intended use.
Consider the size and shape
It's also important to think about the size and shape of your slip-resistant rubber mat. Different mats come in different shapes and sizes to suit different areas, so choosing one that fits the intended area is vital. A mat that's too small won't provide enough coverage, while a mat that's too big will become a trip hazard. Accurately measure the area first and choose the mat size to fit.
Care and maintenance of your slip-resistant rubber mats
Proper care and maintenance of your slip-resistant rubber mat are essential to ensure a long life and continued effectiveness in preventing slips and falls. Here are some tips for cleaning and maintaining your slip-resistant rubber mat:
How to clean slip-resistant rubber mats
Regularly cleaning your slip-resistant rubber mat is important for keeping it free of dust, dirt, debris, and other contaminants that can reduce its effectiveness. To clean your mat, follow these steps:
Remove any loose debris from the mat using a brush or vacuum cleaner
Use a soft brush or mop to scrub the mat with a mild detergent, paying particular attention to any areas with stains or dirt build-up
Rinse the mat thoroughly with clean water and allow to air dry before using it again
How to maintain slip-resistant rubber mats
In addition to regular cleaning, there are a few other steps you can take to maintain your slip-resistant rubber mat:
Inspect the mat regularly for signs of wear and tear, such as cracks or tears, and replace if necessary
Store the mat in a cool, dry place when not in use to avoid mould and mildew growth
While all slip-resistant rubber matting is easy to clean and maintain, our Flowthru drainage anti-slip mats have microbial properties, impeding the growth of bacteria, including E-coli and Staphylococcus Aurous.
What happens if you don't clean and maintain your slip-resistant rubber mats?
If you don't clean and maintain your slip-resistant rubber mat regularly, it can lead to a range of problems and even reduced slip resistance. Over time, dirt and debris can build up on the mat, reducing its effectiveness in preventing slips and falls.
Stains can also develop on the mat, making it less visually appealing and potentially creating an unsafe surface. And failure to check the mat regularly for any signs of wear and tear can result in damage that compromises its effectiveness and the safety of anyone using it.
Slip-resistant rubber mats from MatsDirect UK
With excellent durability, enhanced safety, and complete versatility, slip-resistant rubber mats are crucial to any workplace environment, indoors, outdoors, wet, or dry. And MatsDirect UK offers a range of slip-resistant rubber matting options, making it easy to bring extra safety to your business.
For more information on our full range of slip-resistant rubber mats, contact MatsDirect UK today by sending us a message, calling the team on 0161 797 6785, or emailing us at sales@matsdirect.co.uk, and we'll help you make the right choice for your application needs.