MatsDirect Your Rubber Floor Matting & Printed Mat Solutions Provider Since 1998!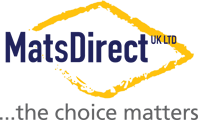 With a full spectrum of flooring experience and an expert depth of knowledge in Rubber matting and floor mat solutions and printed carpet mat product innovations, MatsDirect are your perfect partner to ensure both you and your clients create the mat solution for your needs whilst also ensuring a safer, cleaner environment for customers, investors and workers alike.
When you have any requirement for mat & matting products in the commercial, retail or industrial markets, contact us and see why we are ...the choice matters. Also ISO 9001:2015 (Quality Management System) Accredited for your peace of mind.
We design, manufacture and supply a whole range of standard & specialist matting products so talk to one of our experts now. Phone us on +44 (0)161 797 6785 or e-mail sales@matsdirect.co.uk to see how we can help you and Learn more about us to find out how you can benefit from our knowledge base built up during our 25 successful years.
Our long term partnerships with some of the most innovative, well-established quality certified mat manufacturers, allows us to supply guaranteed, high quality cost effective matting solutions on a consistent basis to all our worldwide customers.