MatsDirect Your Floor Matting Solutions Provider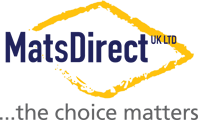 With a full spectrum of flooring experience and an extensive depth of knowledge in rubber matting solutions and mat product innovations, MatsDirect is in the perfect position of advising clients / customers so they can create a safer, cleaner environment for their customers and workers. If you have a requirement for matting products, you have come to the right place. Learn more about what we can offer you.
MatsDirect is a UK supplier and manufacturer of quality rubber matting solutions and entrance door mat products for the commercial, retail and industrial markets.
We provide an extensive, full range of various styles of floor matting solutions to suit your business needs.
Looking for a heavy duty rubber mat? A primary entrance matting system? An office chair mat? Or barrier matting, coir matting, company logo mats, anti-slip mats, anti-fatigue mats, anti static mats and electrical safety matting? MatsDirect will have a solution for you.
We also supply printed carpet, patterned rubber matting as well as PVC interlocking floor tiles and PVC mat rolls.
Our long term partnerships with some of the most innovative, well-established quality certified mat manufacturers, allows us to supply the guaranteed, highest quality cost effective Rubber matting on a consistent basis to all our worldwide customers.
With over 25 years of unparalleled service, MatsDirect has a proven record and a respected reputation in the flooring market place. We are able to offer our customers a wide choice of high quality product solutions and flexibility within each product range. Our clients trust us to deliver a solution that offers not only the best value for the money, but also long lasting and hardwearing results.