Rubber Mats, Entrance Matting & Printed Mat Solutions Since 1998!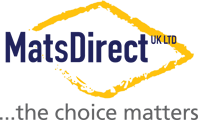 We design, manufacture and supply a whole range of standard & specialist floor matting products. Not sure what you need? Then talk to one of our experts now!
Phone us on +44 (0)161 797 6785 or e-mail sales@matsdirect.co.uk to get your questions answered whilst also recieving assured product pricing for your project.
MatsDirect ISO 9001:2015 (Quality Management System) Accredited helps to make us your perfect partner for guaranteed high quality cost effective matting solutions and excellent customer service.
Learn more about Matsdirect UK Limited to find out how you can benefit from our knowledge base built up during our 25 successful years.