14th May 2020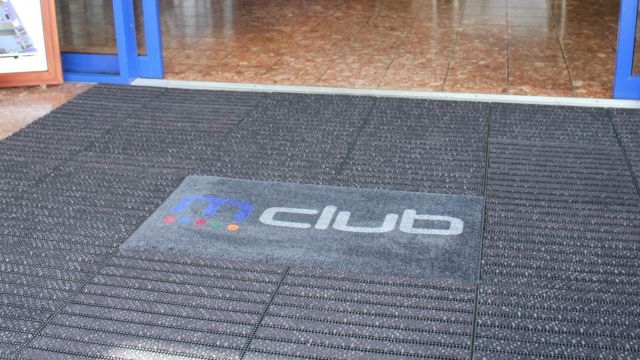 Today's business, leisure, and hospitality sectors are fiercely competitive. Individual businesses, large and small, need to work hard to get a slice of the market and stand out to their customers. Anything your business can do to help achieve that should be welcomed with open arms. That's why all the benefits of custom-made mats for your entrances and foyer can give you a much-needed edge over your competitors. This article tells you everything you need to know about the uses and benefits of custom-made logo entrance mats for your business.
Improved brand recognition
Custom-made logo mats are an effective way to increase your brand's visibility and build brand recognition. While adding a bit of flair to any entranceway, lobby, or foyer, custom mats provide a functional service for everyone that walks over them. Having a logo that's easily recognisable and unique from the competition can be key to success, and custom-made mats are an effective way to create the brand awareness you need to create a lasting impression on new and existing customers alike.
A personalised design
Custom-made logo mats are a great way to make a statement with your business and to stand out from the crowd. Logo mats can be created in a range of standard or bespoke shapes and sizes with a personalised design, giving you complete control over how you want your business to be represented. With so many options available, your logo mat will reflect the message and values of your company.
Consistent branding
Brand consistency is key in your business and all your marketing, and custom-made floor mats are no exception. While being impossible to miss through any entrance or inside any reception or foyer area, custom-made logo mats give you the benefit of displaying consistent branding used throughout your business.
An enhanced first impression
'First impressions count' and 'you only get one chance to make a first impression'. Two common and very true statements that apply themselves not just to people but to your business as well. Your entrance and inside foyer areas are what your customers will see first, and you'll create a powerful first impression. If you present your brand positively, you show confidence and pride in your business. Custom-made logo entrance mats will help you do just that.
A professional welcome
Entrance mats help to keep interior floors clean, dry, and safe by retaining the dirt and dust that comes in from the outside. But besides this practical use, using a custom-made mat to display your full-colour logo, branding, and maybe even a welcome message, will give your customers a sleek, clean, and professional welcome, especially when it's incorporated into a full entrance matting system like our matrix, diamond systems.
An improved customer experience
In many high-end businesses, such as hotels, showrooms, or quality retailers, customers expect a high-quality experience as soon as they enter. But this is important to any business. It helps to attract customers and keep them coming back. Custom-made logo mats create an aesthetically pleasing and memorable experience for customers entering your business.
Increased safety
A critical aspect of any public area is health and safety. in any premises, there should be no risk of slips on any polished, waxed, or tiled floors after coming in with wet footwear, and an entrance mat should not be a trip hazard, risking a fall and causing injury or damage. Luckily, just one of the benefits of custom-made mats is that they're professionally designed to help reduce precisely these types of accidents.
Traction and slip-resistant materials
One of the key purposes of any entrance mat is that it needs to stay in position, however light or heavy the footfall it sees. For this reason, premium logo entrance mats are available with a smooth backing for hard floors or a Gripper Nitrile Rubber backing for carpet areas, giving high-traction slip resistance. For other areas inside your premises, rubber floor mats also provide excellent non-slip qualities.
Preventing falls and trips
Alongside their non-slip properties, every entrance mat should also have high-standard, lay-flat properties to avoid any falls or trips. Even coir matting can be cut and inlaid with your branding before being set into mat wells for a finished surface that's flush with the flooring.
Durability and low maintenance
Given their position at the entrance of your business, a custom-made log mat should be hard-wearing and durable to help cope with the easy absorption of water, the retention of dirt, dust, and debris, and prevent bacteria from any dust from floating in the air. Taking all this into consideration, and depending on the time of year, they can get dirty fairly quickly, so every entrance mat needs to be low maintenance and easy to clean.
Long-lasting and high-quality materials
Another key benefit of custom-made entrance floor mats is they're made from high-quality polyester or nylon materials and are incredibly hardwearing. Together with the nitrile rubber or vinyl backing, each mat is designed and made for long-lasting durability.
Easy to clean and maintain
With heavy footfall comes more cleaning and maintenance. But alongside their hard-wearing qualities, custom-made logo mats are also incredibly practical for cleaning purposes as well. Whether velour, nylon, or polyester, each logo mat can be easily vacuumed to pick up dust and dirt. They can also be sponged using hot soapy water to remove spot stains, be cleaned using a Vax or similar carpet cleaner, or even machine washed for heavier soiling without fading or losing colour.
A cost-effective option
For businesses looking to spruce up their entrances and lobbies, custom-made logo mats are a safe, accessible, and professional way to add a personal touch while staying cost-effective. Logo mats are an excellent way to make the right impression with visitors and customers – plus, they don't have to break the bank.
Fully customisable
As we've said, logo mats are an excellent way to show off your business logo and branding and make a strong first impression on potential customers with eye-catching designs and vibrant colours. Customisable logo mats let you put your own spin on your mat design, allowing you to choose the size, colour, material, and design for a mat that truly reflects the brand of your business.
Lower long-term costs
Custom-made logo mats could be the perfect way to reduce your long-term costs. Not only do these mats last longer when compared to other disposable mats, their easy maintenance and cleaning means there's little cost with upkeep, and you'll have a noticeable reduction of dirt on internal floors.
Custom-made logo mats from MatsDirect UK
Custom-made logo mats offer a multitude of benefits to businesses. Not only do they help build vital brand recognition, but they also provide safety, durability, and cost savings, with modern printing processes making the production process easier than ever before.

If you're looking for an effective and affordable way to promote your business, custom logo mats are becoming an increasingly popular way for businesses to make a lasting impression. Contact our team by sending us a message, calling 0161 797 6785, or emailing us at sales@matsdirect.co.uk, and we'll work with you to create a visual for your logo mat today.