6th October 2023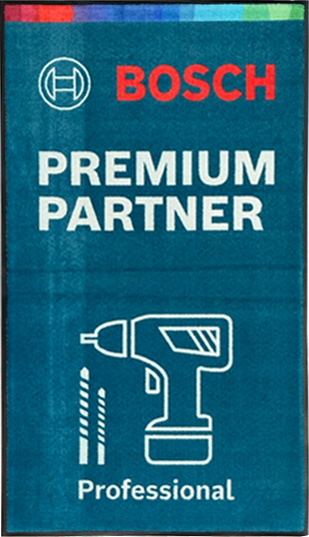 If you're as passionate about top-notch quality and world-renowned brands as I am, then today's piece will definitely pique your interest. Let me introduce you to the most recent collaboration that's set to make waves in the industry.
Remember Bosch? (Of course, you do!) They're not just about drills and dishwashers. This world-famous brand, known for their unmatched technological solutions across mobility, industrial technology, consumer goods, and energy, has just rolled out the red carpet for their latest venture. And guess what? They've chosen none other than MatsDirect UK Limited for the branded/logo mats to add to the brand.
Now, for those who aren't familiar with MatsDirect, let me give you a brief rundown. We are an ISO 9001 approved company that isn't just any mat supplier.
We are the maestros behind those entrance matting systems that you've undoubtedly admired in premium locations. Our range doesn't just stop there. From logo entrance mats that boost brand visibility, to electrical safety matting and barrier entrance mats – we truly have it all.
When you add in that ALL of our mats use our Suremats seal, to ensure quality and longevity – you have the best choice guaranteed.
So, why did Bosch choose MatsDirect, you ask?
Well, it's simple. Quality recognizes quality. At MatsDirect we have an unwavering commitment to excellence, which mirrors Bosch's own ethos. Chris Bleakley, the CEO of MatsDirect, couldn't have put it better: "Bosch's decision to partner with us speaks volumes about the standards we've set in the professional matting industry. It's not just about partnering with a renowned brand; it's about upholding our top-tier product and service delivery."
But there's a cherry on top! MatsDirect's logo entrance mats will not just serve as an aesthetic accessory during Bosch's promotions. These mats are about to become pivotal in skyrocketing the brand's visibility. Just think about it. Every time someone steps onto one of these mats, Bosch's commitment to quality is literally under their feet, making an instant and lasting impression.
However, MatsDirect isn't all about looks; they're practical too. We offer matting solutions tailored to various needs. Whether it's entrance matting systems designed to protect those pristine floor surfaces and save on cleaning costs, or electrical safety matting that ensures a hazard-free workplace – MatsDirect is the go-to solution.
For all you folks out there looking to learn more or maybe even fancy getting your hands on one of these mats, head on over to MatsDirect's contact page or shoot us an email at sales@matsdirect.co.uk.
Before I sign off, here's a thought: In a world where first impressions matter so much, isn't it time we all paid a little more attention to what's under our feet?
Until next time, keep those floors stylish and safe!
Would you like to dive deeper into the world of mats?
Explore more about MatsDirect and their extensive range.
And if you're curious about the latest innovations from Bosch, we've got you covered too!