19th November 2023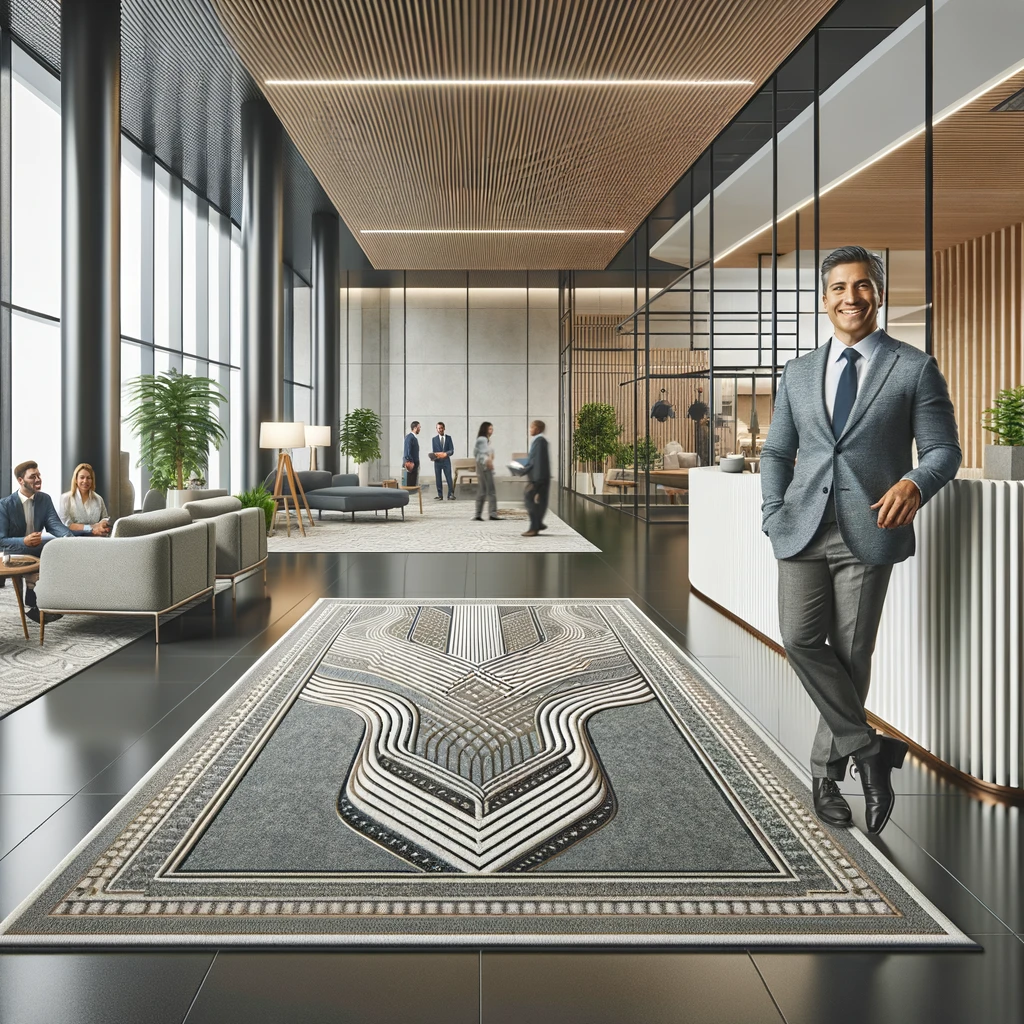 We covered in our previous blog post that logo entrance floor mats are a smart investment both from a safety point of view and also for building your brand.

There are not many ways that match being able to catch people's attention as soon as they to the premises. It gives you the perfect opportunity to set the tone for your brand and to make your business look professional.

In this blog post we want to talk about how to pick your logo entrance floor mat to match businesses interior design. You should aim for the logo and colours, even the material to be congruent with your existing brand and we will give you some more information about how we help with this.

Bear in mind here at Mats Direct we work alongside you to make sure that you get the right material for you, based on your needs and we also make sure that you get the right size and logo placement.
If you are interested in logo entrance mats do not hesitate to contact us by clicking here.

First Impressions Count

When clients walk into your business, what's the first thing they notice? It could be the friendly staff, the ambient music, or the décor that reflects your brand's personality. Among these elements, a custom logo entrance mat is a subtle, yet powerful tool to make a lasting impression. It's not just a mat; it's the welcoming face of your brand.

We also cover the safety aspects in this blog post.

The other great thing about the logo entrance mat is the fact that you are able to give your logo pride of place and it can be quite large. We obviously speak to you and design your logo entrance mats based on your needs and will advise on different materials that are available.

The end result is a far better first impression for your customers and the ability to show off your brand.

Choosing the Perfect Mat For Your Business:

Selecting the right logo mat for your business is about finding the sweet spot between functionality and design.

Material Matters: Depending on your interior style and foot traffic, choose from rubber, coir, or nylon. A plush, nylon mat can add a touch of luxury to a high-end boutique, while rubber is perfect for more industrial environments.
Of course, you also get the best of both worlds which would depend on how hard wearing you want your mats to be. The best way to get the material that you want is for us to work with you to understand more about your business. When you are ready to design your logo entrance mat give us a call or contact us here.
Colour Coordination: Align the mat's colours with your business's palette. If your brand colours are bold, a mat with a vibrant logo can be eye-catching. For more subdued branding, opt for a mat that complements the interior without overwhelming it.
You can also have full control over the colours so you can go for the look and the feel that you want your business. Here at Mat's Direct we have experience with designing thousands of entrance logo mats for businesses and can advise on what we think would work best.
Size and Placement: The mat should fit perfectly in your entrance area. It's not just about covering the floor; it's about integrating seamlessly into the space, guiding foot traffic, and enhancing the overall aesthetic.

This is important as you definitely want to get all of the safety aspects that will be inherent with a logo entrance mat. There is no point in getting a huge entrance mat if it does not give you safety and functionality.

Likewise, you will not want to go too small as that will defeat the object of having a branded logo entrance mat.

Designing with Purpose

Your logo mat is an extension of your brand. Keep the design clear and straightforward. The logo should be visible but not overpowering. If your brand is whimsical, play with creative elements. For more conservative businesses, a clean and simple design works best.
We work one-on-one with you to make sure that you get the right logo design and look and feel of your entrance mat.

Beyond Aesthetics

A good logo mat is more than just pretty. It needs to be durable, easy to clean, and safe. Opt for materials that withstand heavy foot traffic and are easy to maintain. Safety-wise, a non-slip mat is a must to prevent accidents.
As mentioned above this will also change depending on the business premises. For instance, if you are shopping mall it is common to get a more hard wearing entrance matting system that will last and stand the test of time.

Conclusion

Your entrance mat can be a statement piece that speaks volumes about your brand. Choose wisely, design creatively, and watch as it ties your business's interior design together, making that crucial first impression a memorable one.
Let us help you get the perfect logo entrance mat for your business and a design that will complement your brand. Contact us by calling (0)161 797 6785 or click here to contact us via email.

We look forward to helping you strengthen your brand and also get all of the benefits from a logo entrance mat for safety.