29th March 2020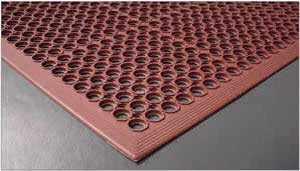 In this guide to kitchen essentials, we are going to show you the must-haves of a successful commercial kitchen. We are not talking about pots and pans or an oven. We all know about the kitchen appliances. We will be focussing on the things which often go overlooked but are essential for having the best possible eatery. Things like Rubber Mats which can be used to reduce joint pain and prevent slips, for example, are fundamental to optimising your efficiency and productivity in the kitchen but often go unacknowledged. We understand that if you're running a kitchen there's a good chance your expertise is food. You know every detail of making the perfect pizza, but we are going to help you with the kitchen necessities beyond the food.
A Streamlined Menu
The menu is the cornerstone of any commercial eatery. Whilst the other items on this list are focussed more directly in the kitchen your menu you will affect all areas of your business (including in the kitchen and outside of it). Even if you have the greatest chefs in the world managing a menu beyond the scope of your business size is a recipe for failure. Focusing on what you do well and reducing the number of ingredients needed in the kitchen, opting instead for more versatile foods which can be used across a variety of recipes on the same menu. Streamlining your menu doesn't mean the menu has to be small. It simply means factoring in what your chefs do best and stock management when creating it. This is key to preventing food waste and increase productivity in the kitchen. Better food served faster and without wasting stock is certainly something every kitchen strives for.
Commercial Kitchen Rubber Flooring
As with any workplace productivity is highest when employees are healthy. Walking on hard surfaces can result in joint pain and this is particularly prevalent in chefs as they spend much of their workday on their feet. These aches and pains are not conducive to effective work in the kitchen and will decrease morale among your chefs. Thankfully there is a solution. Anti fatigue rubber floor mats work to reduce movement, improving blood flow and limiting the aches sustained from walking on hard surfaces. When buying a commercial rubber matting for your kitchen don't just buy any anti-fatigue mats. Instead, look for anti fatigue mats with anti slip properties. Rubber & PVC Drainage Mats & Tiles, as the name suggests, will help you to avoid slips in your kitchen. A slip anywhere can be dangerous, but the risks are particularly high in a kitchen. Combined with the many potential spills present in any kitchen taking preventative measures is crucial.
Kitchen Ventilation
This list is of overlooked essentials and proper kitchen ventilation meets the criteria. It is certainly essential but is in fact often overlooked. The reality is ventilation should be one of the first things you look at when starting a new commercial kitchen. Both the health and happiness of your kitchen staff and the longevity and cleanliness of your kitchen are dependent on having a good ventilation system. The high quantity of food being cooked and the methods used result in extremely high temperatures in a kitchen which is not properly ventilated. This is not a safe work environment. Combined with grease, smells and smoke your kitchen will be borderline uninhabitable and likely against regulations without sufficient ventilation. Consult a commercial kitchen ventilation specialist to see how you can improve your kitchen's air quality and abide by regulations.
We know you have the cooking expertise and now with these tips you also have some of the usually overlooked elements of a successful kitchen on your mind contact MatsDirect UK Limited for a full range of floor matting products to help you stay safe in the kitchen.