11th August 2023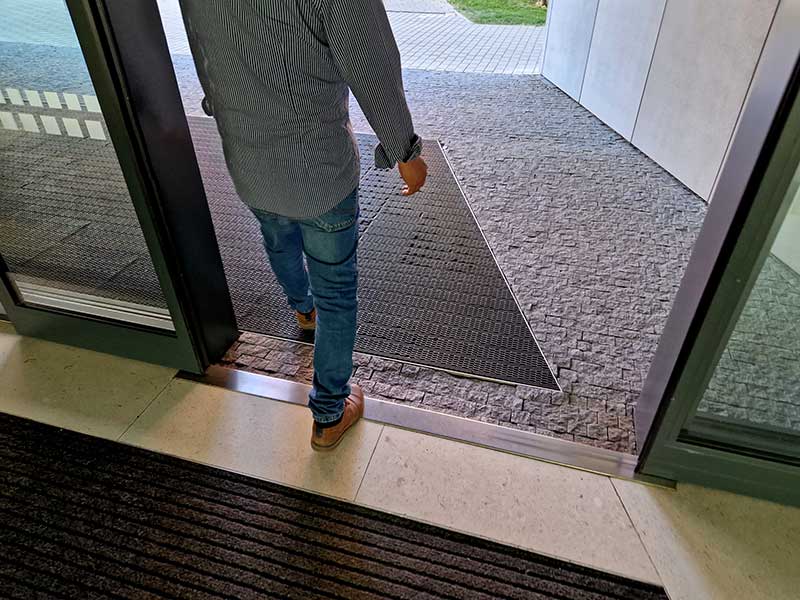 When managing a thriving hotel or business, plenty of factors contribute towards a successful operation. One of these critical yet often overlooked elements is entrance matting. So why use entrance matting? An entrance mat offers far more than just an aesthetically pleasing appearance – it plays a crucial role in enhancing the entrance area overall. Its significance lies in its ability to act as the first line of defence against dirt, moisture, and debris that visitors may track in from the outdoors – and prevent slips.
In this article, we'll look at the concept of entrance matting and explore why it holds such vital importance for maintaining cleanliness, safety, and a positive experience for your guests or customers.
Understanding entrance matting
Entrance matting refers to specialised floor coverings, or entrance matting systems, strategically placed at the entrance or foyer of a building. Its primary purpose is to prevent dirt, water, and debris from being tracked further inside, ensuring a cleaner and safer indoor environment.
By effectively trapping and containing outside dirt and moisture, entrance matting helps preserve the integrity of interior flooring, reduces slip and fall accidents, and lowers ongoing cleaning and maintenance costs. This practical yet essential feature serves as a protective barrier, shielding your hotel or business premises from the harmful effects of outdoor elements, all while enhancing the overall cleanliness and safety of the space.
But the significance of your entrance mats goes deeper than just protecting against foot traffic and a wet floor. An effective matting system can be an attractive and stylish method of bringing your branding to people's attention as soon as they arrive. And, as potential customers step inside your establishment for the first time, their initial encounter with your entrance area will set the tone for their entire experience.
Different types of entrance matting materials
Each type of barrier entrance matting has different materials offering different advantages, allowing you to choose the most suitable one based on your hotel or business's specific needs and foot traffic patterns.
Rubber Matting: Rubber entrance mats are durable and resistant to various weather conditions, making them suitable for indoor and outdoor use. They offer excellent slip resistance and are easy to clean, making them ideal for high-traffic areas.
Carpet Matting: These entrance mats combine functionality with aesthetics, providing a welcoming feel. With either nylon or polypropylene material and a rubber backing, they're effective at trapping dirt and moisture, making them suitable for moderate foot traffic areas.
Scraper Matting: With its durable rib and infill closed panel design, scraper matting retains more dirt and moisture than most entrance mats. The scraper system has material inserts of either rubber, coir, nylon, carpet or PVC, keeping surfaces clean and dry in areas with heavy dirt accumulation.
The importance of choosing the right entrance matting
Selecting the most appropriate entrance mat for your business or hotel is a crucial decision directly impacting your entrance foyer's overall cleanliness, safety, and aesthetic appeal.
Entrance matting acts as a robust line of defence against dirt, moisture, and debris, effectively reducing the amount of tracked-in excess dirt into your premises. It also helps prevent slip and fall accidents, safeguarding the health and safety of your guests, visitors, and staff.
But choosing the right matting material and design ensures the best functionality, durability, and cost-effectiveness, while significantly extending the lifespan of your flooring and reducing maintenance costs.
Investing in high-quality and effective entrance matting best suited to your specific needs and foot traffic patterns creates a positive first impression. It demonstrates your commitment to providing a clean, safe, and inviting environment for everyone who walks through your doors.
Enhanced safety and slip resistance
Entrances, being high-traffic areas in any hotel or business, present a big safety hazard and risk of slips, trips, and falls on hard flooring. Entrance matting plays a crucial role in reducing these potential accidents and injuries.
By effectively trapping moisture and debris from shoes, matting prevents wet floors, a major contributor to slip hazards. Plus, the slip-resistant properties of certain matting materials provide a grippy surface for shoes, especially in wet weather conditions. This enhanced slip resistance is important for the safety of both employees and customers.
For businesses, it minimizes the risk of staff and public liability from workplace accidents, while in hotels, it promotes a sense of security and trust among guests. Making the installation of slip-resistant entrance matting a priority shows a proactive approach to safety, preventing such slip accidents and creating an accident-free environment as people walk into your premises.
Dirt and moisture control
Entrance matting offers a highly effective method of managing excess dirt and moisture coming into your premises from the outdoors. As visitors or wheelchair users move over the matting, it traps, collects, and stops dirt, dust, and debris that someone can track in, leaving wet floors and footprints.
And an entrance mat will also act as powerful barrier matting against having moisture tracked in, causing damage by water, snow, or rain. By absorbing and containing moisture from footwear, it prevents unsightly and potentially hazardous wet floors, safeguarding the integrity of interior surfaces and reducing the risk of slips and falls.
Choosing entrance matting that excels in dirt and moisture control is essential for creating a clean, hygienic, safe environment within your hotel or business.
Floor protection and maintenance
Entrance matting will also go a long way to preserving the lifespan of hard floors of any material in your hotel or business. As visitors step onto the matting, it acts as barrier matting, preventing abrasive dirt, debris, and dirty footprints from reaching and damaging interior flooring surfaces.
By reducing the amount of dirt brought inside, entrance matting reduces the need for frequent cleaning and maintenance. This saves time and effort and brings in cost savings on cleaning supplies. Additionally, the protection offered by this type of barrier matting extends the life of your flooring, postponing the need for costly repairs or replacements.
Branding and aesthetics
Entrance matting also offers you a prime opportunity to display your hotel or company's logo for brand promotion and to enhance the overall look and feel of your hotel or business. Of course, this would also be excellent branding for businesses, shopping centres, and other commercial buildings.
With customisable entrance matting options, appropriate branding allows you to create a cohesive and professional appearance that aligns with your brand image. By incorporating branding elements such as logos, company names, straplines, or specific brand colours on the entrance mats, you can leave a lasting impression on your visitors as soon as its professional installation is complete.
This personalised touch not only reinforces brand recognition but also adds a touch of elegance to your entrance area. Custom entrance matting is an effective marketing tool, subtly getting your brand message and familiarity across to customers and guests while ensuring a visually appealing and aesthetically pleasing atmosphere.
Choose the right entrance mat with MatsDirect UK
While entrance matting is essential for businesses and hotels looking to create a welcoming and safe environment for their customers and employees, as you've read, it has many benefits besides.
Investing in high-quality entrance matting tailored to the foot traffic patterns of your hotel or business leads to substantial long-term cost benefits, making it a wise and practical decision for any facility manager or business owner.
As a trusted supplier of entrance matting, MatsDirect UK offers a wide range of options to suit your needs. So make the smart choice and transform your entrance into a welcoming and safe space. For more information or advice on entrance matting, contact MatsDirect UK today by calling us on 0161 797 6785, emailing us at sales@matsdirect.co.uk, or sending us a message.