20th May 2020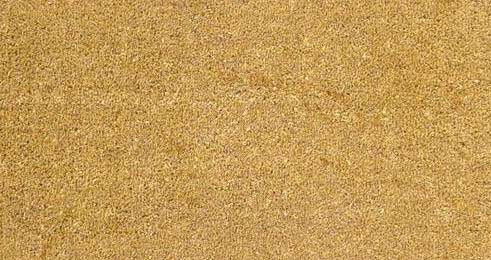 All coir matting isn't the same. While all of them are made from coconut husks, the quality differences in coir matting can still be vast.
Types of coir floor matting
Commercial grade and luxury coir matting have more fibres per meter than budget grade products. This results in less shedding, more uniform colour, and a denser pile – ultimately, the commercial-grade and luxury products will last longer too. So how do I know which of the three grades of PVC backed coir matting will best fit my purpose? Here's our brief rundown:
Heavy-duty/commercial grade – for commercial use and when only the best will do: Matsdirect only offer this grade of PVC backed Heavy-Duty Commercial Grade Coir floor matting as it is the highest quality cut to size coir matting on the market. This is the material usually supplied to restaurants, hotels, and other businesses. To keep the colour uniform and give a very firm brushing action, the bristles are packed tightly together. There is minimal (if any) shedding after the initial two weeks. When it comes to ease of wheelchair accessibility, this is also the recommended grade.
Superior grade – an ideal choice for home use: The superior PVC backed cut to size coir matting has a uniform colour and a dense surface, giving a smart look. While shedding is quite normal with any type of coir matting, this isn't true for the superior grade, where it dies down significantly. Indeed, it is a noticeably, superior grade product.
Budget grade – select this when the cost is the primary concern: It is a lower cost option than the superior product. It is still effective and removing dirt and has an excellent brushing action. However, it doesn't have a uniform colour. Plus, it will shed more and won't last as long as our commercial and superior grades of coir. Nevertheless, it is ideal when the price is the deciding factor.
For more information about Coir products and their uses contact MatsDirect UK Limited