22nd November 2019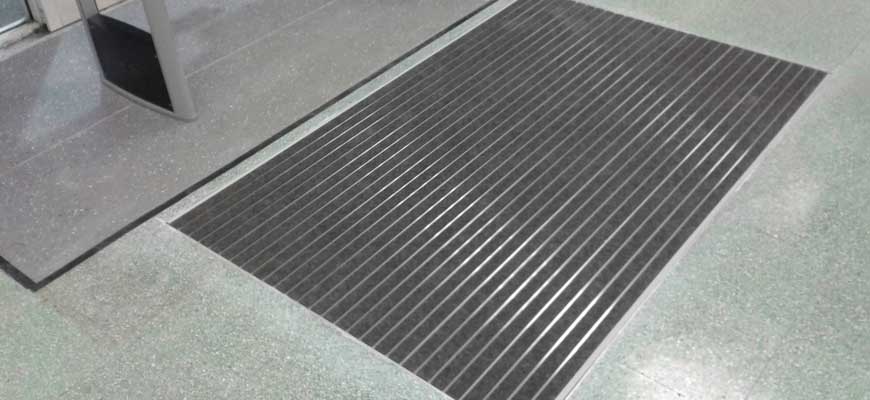 When it comes to shopping for a matting solution for an entrance way, it can be overwhelming to see the many materials that mats can be made from. From rubber modular, Aluminium rib panel open and closed to Coir and Coir PVC Coil Matting it's hard to know what's best for what you need. There are many situations where we may need matting and one of the most common situations is the entrance to your building. But what material is best to use as an Entrance Matting System?
There are many different materials that can be utilised when it comes to entrance matting and each have their benefits. Rubber matting is great for non-slip situations. Aluminium matting is virtually indestructible. Coir matting is hard-wearing and PVC matting can be easily and quickly installed. But if you're unsure of which is best for you, this handy guide will delve deeper into the advantages and disadvantages of all your options. Helping you to decide what type of matting will work for you in your entrance walkway or reception area.
Rubber Modular Matting
Rubber matting is one of the most common matting solutions that we come across and rightly so as it has several benefits that are beneficial to businesses. Rubber modular matting is ideal for situations where non-slip is important, whether that being outside or inside. Making it great for busy entrances and where tagging machines are in operation as they do not interfere with the electronics of the posts, especially when the weather is particularly bad. Rubber matting is one of the easiest forms of matting to fit, being very quick and easy to install without needing any special tools or employing specialist fitters. This type of modular matting is also ideal for those companies who are wanting to add that personal touch via a full logo image.
Aluminium Rib Panel Matting
If you're looking for something strong and sturdy, aluminium matting may be the one for you. It is a completely indestructible option that looks visually attractive due to its shiny appearance. With this range of matting, there is a vast choice of infill options available so that you can style them out to suit your needs. Unlike rubber matting, the aluminium alternative can span voids due to it's safe and sturdy nature and can be used both inside and in partly covered entrance areas.
With aluminium matting, because of how well designed it is, it can be an expensive option. It requires specialist fitting due to it's complicated construction and should only be used on areas that aren't exposed to elements that may cause slips and falls due to its surface.
Coir Roll Matting
Also known as coconut matting is a great option for those that are on a budget and are looking to place a mat in an entrance way where there is low footfall. Due to its fibres, it is best placed inside as it can be slow drying, but when placed properly, coir matting can be hard wearing. It is a style of matting that can be created in nine pre dyed colours to include a logo. These mats are also super easy to install, much like rubber matting where no special skills and/or tools are needed supplied in bespoke sizes.
An issue of coir matting is that the coconut fibres shed during wear which mat mean additional cleaning to keep the surrounding area looking tidy. They are also only able to be cleaned themselves by lifting and shaking them outside due to the fibres. If you're looking for something more colourful, you may be best looking at our last option below.
PVC Pastaloop Coil Matting
Various types of PVC roll mattings are widely available in a full range of colours. PVC is available in rolls and tiles are usually supplied in boxes and are super easy for individuals to fit and lock together if they are interlocking tiles. This type of matting is also really easily replaced if any part of the matting is damaged and can be delivered quickly due to the ready-made stock. If the floor is uneven, you may be required to level the floor first but the finish will be worth the preparation.
The only downsides to this matting is that it can be difficult to clean due to their open and closed systems. This type of matting is also slippery when placed in wet areas, so placement must be carefully thought out.
Various kinds of matting materials can be used for a range of situations and all come with their own advantages and disadvantages. If you are still unsure of the type of entrance matting that you need, our team will be more than happy to assist and advise you on which kind of matting may be best. You can send us an email on info@matsdirect.co.uk or gives us a call on 0044 (0)161 797 6785.