31st August 2023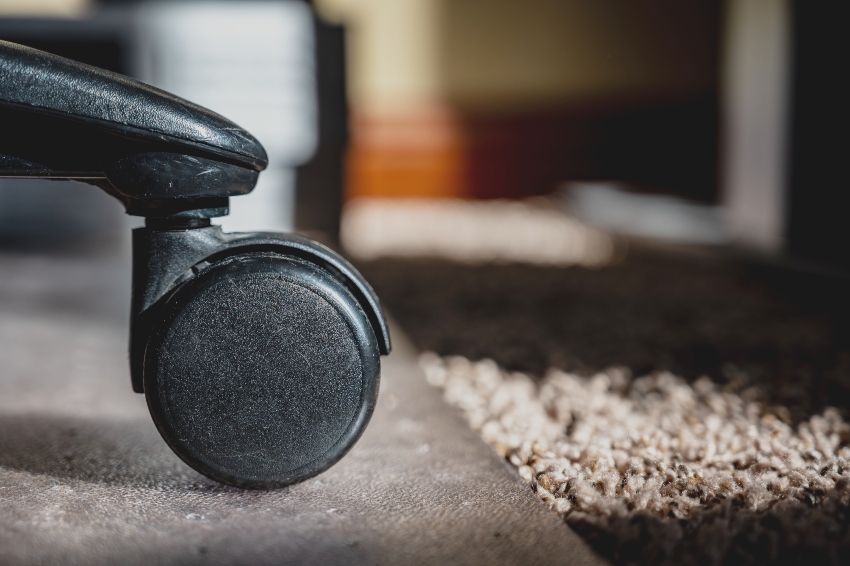 While the ideal office chair is an essential piece of work kit, the chair mat is an often overlooked yet crucial element to go with it. This unassuming accessory can play a vital role in creating a work environment that encourages productivity while safeguarding your floors from the wear and tear of constant movement and contributing to the comfort of your staff.
As teams spend extended hours working, the right office chair mat can help employees consistently deliver their best work. So if you need help on how to choose a chair mat for your office space, let's look at the key factors to help you select the perfect one that can optimise workspace functionality, help chair wheels move quickly and smoothly, and protect carpets.
Assessing your workspace needs
Before looking into options for office chair mats, closely examine your workspace. Consider the floor type – hard floors, carpet floors, or tiled floors – to ensure the mat you choose is compatible. Additionally, look at any high-traffic areas in your workspace, strategically placing chair mats to provide optimal coverage and protection in any busy areas.
Chair mat size
Equally important is considering the dimensions of your desks and chairs to choose the correct chair mat size. A well-fitted chair mat should fit with these measurements, allowing for full chair movement while offering proper floor coverage in the desired roll area.
Chair mat shape
Beyond its size, consider the shape of your workspace. Chair mats are available in a shape that suits your needs, from lipped to rectangular, round, or curved. So whether it's a standard office layout or you have corner desks or any open spaces – even a standing desk – choose a chair mat shape to fit your office that works with and complements your setup.
These primary considerations will help you select a chair mat size and shape that protects carpets and any other floor type, contributes to a comfortable, ergonomic, and productive workspace, and properly fits with your office furniture.
Chair mat material options
Choosing the right chair mat material is a decision that goes further than looks and budget – it directly impacts the functionality and longevity of your workspace setup. With various options available, each catering to specific needs, understanding the advantages of different materials is the best way to make an informed choice. Let's look at some of the chair mat materials available:
Clear PVC chair mats: These loose-lay chair mats are hardwearing and durable, giving essential floor protection for hard surface flooring and carpeted floors. Whatever floors you have, the transparency of the PVC still allows your hard floor to show through while preventing wear and tear caused by chair movement and damaging chair casters.
Bamboo chair mats: If an eco-friendly chair mat is more in keeping with your values and your office decor, bamboo chair mats not only enhance the visual appeal of your workspace but also provide a sustainable choice. While protecting your floors from scuffs and scratches, the backing, usually rubber studs, provides grip to prevent slippage.
Polycarbonate chair mats: Coming in at around 2-3mm thick, transparent polycarbonate chair mats are the perfect protection for a carpet and a hard floor. With high-impact strength and crack-resistant properties, these durable mats can be a gripper or flat back option and can withstand the rigours of daily chair movement, giving your flooring long-lasting protection.
Tempered Glass chair mats: As a more expensive choice, tempered glass chair mats combine modern aesthetics with outstanding durability. Their sleek appearance adds sophistication to your workspace while their strong material offers a surface that's five times stronger than standard glass to resist scratches, dents, and heavy-duty use, making it a perfect chair mat for carpet.
Remember that the thickness of your chair mats also matters. If you have carpets, your chosen chair mat should be thicker if you have high pile carpets or medium and low pile carpets. Placing thinner chair mats on carpets with thicker piles may cause them to buckle or break.
You can do the paper clip test to know whether you have a high, medium, or low-pile carpet. Just open up a standard paper clip, push the straightened piece into the carpet, and push it down to the floor underneath. Then measure the section of paper clip that went in. As a rule, a high pile on plush carpets is anything over ½" (12mm), a medium pile is up to ½" (12mm), while a low pile is up to ⅜" (9mm).
Choose wisely to ensure the right chair mat is correct for your carpet thickness, complements your existing office furniture and workspace, and contributes to a comfortable and productive environment.
Chair mat compatibility with flooring
The sustainability of a chair mat is linked to its compatibility with the type of flooring it's placed on. A well-matched chair mat safeguards your floors and ensures optimal workspace functionality. Select a chair mat designed for your specific flooring type to ensure workspace efficiency and extend its life.
Hardwood floors: Clear PVC, polycarbonate, and glass chair mats provide durability and protection, making them ideal for hardwood flooring. They shield against scratches and marks, maintaining your floor's pristine condition while allowing the natural beauty of the hardwood to show through.
Carpeted Floors: Depending on your carpet pile, chair mat thickness is something to look into. While PVC or plastic chair mats may give some protection, they'll be too thin on high or medium carpet piles for long-term use, buckling and potentially breaking over time. A thicker, polycarbonate chair mat or tempered glass chair mat offers a smooth surface that improves chair mobility while saving your carpet fibres.
Tiled or Laminate Floors: For office chairs on hard floors of ceramic tile or laminate, clear PVC, polycarbonate, or glass chair mats act as a durable protective barrier against scratches, scuffs, and dents caused by chair casters and their movement while also often having a non-slip backing.
Additional chair mat features to look our for
Certain chair mat features can significantly impact your workspace experience. Some might lead to unintended consequences, good or bad, so to get the best chair mat for your needs, let's look at some features that could warrant extra consideration.
Non-toxic and eco-friendly chair mats: Choosing chair mats made from non-toxic and eco-friendly materials is a great way to boost your eco-credentials while doing your bit for the environment. PVC mat materials are recyclable, but many options are free from phthalates (the compounds that make PVC flexible) and contain no toxins.
A chair mat of polycarbonate is 100% recyclable and free from PVC and other harmful chemicals. While wood or bamboo chair mats can be made from sustainable and recyclable materials.
Gripper or anti-slip backing: A gripper or anti-slip backing ensures your office chair mat stays in place, preventing slips and providing stability. Without this feature, your mat might shift or buckle during use, creating a potential safety hazard.
Easy cleaning and maintenance: Chair mat products for hard floors or carpets all feature easy-clean surfaces, making them easy to clean and maintain. To avoid accumulated dirt affecting the mat's appearance and your workspace hygiene, vacuum regularly to remove loose dirt, dust, or debris and clean with a non-abrasive cleaner.
Office floor chair mats from MatsDirect UK
A comfortable working environment is essential, so choosing your chair mat can go beyond just looks, whether you have hard surfaces, a carpet, or carpet tiles. Ensuring the mat's compatibility with your floor type, the material's long-term durability, and its additional features can create a functional and aesthetically pleasing workspace.
At MatsDirect UK, we offer two of the most popular hard floor or carpet chair mat types with our Surelay mats that provide the protection you need for your floor. For more information or advice on these or any other matting solutions, contact MatsDirect UK today by calling us on 0161 797 6785, emailing us at sales@matsdirect.co.uk, or sending us a message.